The CMA Pump Price Enquiry must not be a whitewash: The Profit Motivated Motoring Associations must Stop Blaming ALL Retailers for the High Prices at the Pumps
A firm message to the Govt: Kwasi Kwarteng's ask of the CMA to investigate fair pricing at the pumps must be the most detailed examination of the fuel supply chain's secretive and chronic manipulation of petrol and diesel prices, ever carried out. That means no whitewash, get it right this time, please! And at the same time cut Fuel Duty by 20p !!!
It must not end up like a similar OFT (now the CMA) fuel supply chain enquiry I helped to commission back in 2013. That one turned out to be nothing but a whitewash. They concluded: "The evidence gathered suggests that at a national level, competition is working well in the UK road fuel sector." That conclusion was absolute bunkum back in 2013 as any driver will contest.
It's critical that this brand-new 2022 enquiry must ask the right questions to all involved in the cost of filling up, not just the retailers. We await an invitation to give evidence. Our data shows the depth of the unmitigated greed.
Notwithstanding there are indeed a few unscrupulous retailers, the vast majority are being held to ransom by the branded oil businesses and those multiple forecourt owners further up the fuel supply chain. I guarantee, if they do their job properly, the CMA will show that the majority of the small independent garage owners are making very little profit dispensing fuel. Many are even making a loss selling petrol and diesel.
One Kent garage owner told FairFuelUK: "I make £750 from fuel sales each week, but it costs me £850 for me to employ staff in my small shop."
A Bristol retailer said: "Last week, I sold 22705 litres and made £1066 (out of £37000 ex VAT) profit on fuel, before card costs or any other expenses, AND I'm accused of profiteering by stupid out of touch motoring associations? Yes, we earn from the shop – if we didn't, we would be bankrupt!"
So here's our message to the profit driven motoring associations: "Small independent retailers are on tight margins and restrictive contracts controlled by ruthless oil companies, refineries, and wholesalers. Stop blaming these struggling small businesses and work with us at FairFuelUK to expose the collusion, racketeering and greedy profiteering further up the fuel supply chain. The CMA must not leave any fuel pricing decision point unexamined, every part of the process must be revealed." Howard Cox, Founder of FairFuelUK.
The CMA must look at the plethora of rip off pricing issues over decades such as this latest example (see graph below), that shows since June 1st wholesale prices for petrol have fallen over 7p per litre yet filling up costs have risen over 16p. And this one: In March oil prices fell 40% in Sterling, yet in the same 4 weeks period, average petrol prices at the forecourts rose 4% and diesel by 9%. Go figure!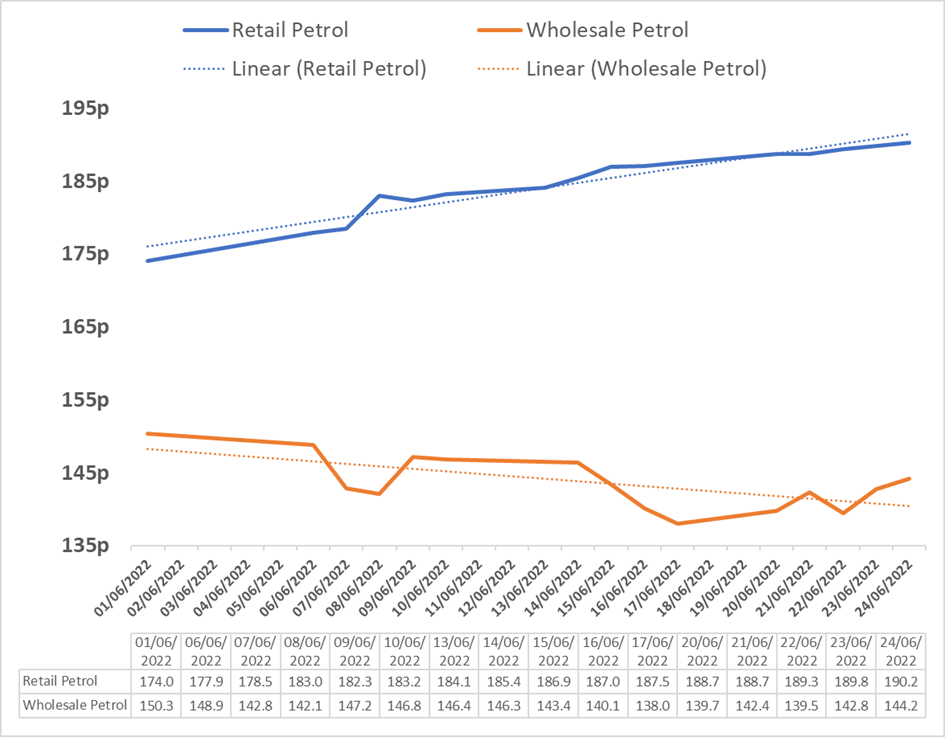 The CMA Pump Price Enquiry must not be a whitewash
FairFuelUK is calling for:
A Fuel Duty Cut of at least 20p per litre
Create a Pump Pricing Watchdog we call PumpWatch
Ensure the CMA enquiry investigates the pump pricing process throughout the fuel supply chain, don't just look at retailers.
But let's get back to what the Government can do now to slow inflation, stop a recession, and reduce driver costs across the UK. Why is it, Germany and Italy have reacted so quickly to similar global oil price pressures by cutting fuel duty by 25p per litre? Spain and Ireland have chopped 17p, even France has reduced the heinous regressive levy by a double digit 13p. But all the UK has done is a paltry 5p, which didn't even touch the sides.
The commercial heartbeat of all economies, diesel, here in Blighty still remains one of world's highest taxed fuels. It doesn't take a professor of economics to recognise that by reducing distribution costs for logistics, the impact on everything we buy will fall. That means Inflation would slow and almost certainly fall too ! Are the Government hearing the common sense that is pouring out of this page?
The RHA want the Treasury to introduce an essential user fuel duty rebate. At least that would be a start to boosting the economy and ensuring haulage businesses remain viable.
And more and more evidence show that the Government's un-consulted NetZero plans will bankrupt the nation and stop attracting voters, with the 2030 diesel/petrol new car sales ban totally unthought out. These idealistic ill-informed edicts are driving voters away from the Conservatives ever being elected again.
The Government appear to millions to be unaware that petrol and diesel costs impact in every economic aspect of our personal and business lives. Yet it seems the politically unrecognisable tax hiking government is happy to wallow in the colossal amount of extra VAT revenue generated from these on-going paralysing pump prices, all topped up with that one off £5bn oil corporation windfall tax.
This tax receipt bonanza combination should easily deliver a 20p cut in fuel duty and then all the consequential tax revenue benefits would accrue. Not only that, but watch those disillusioned Tory voters come back to support this Government.
The CMA Pump Price Enquiry must not be a whitewash