A rare weather event in the Arctic that is expected to bring freezing weather back to swathes of Europe has spurred jumps in energy prices.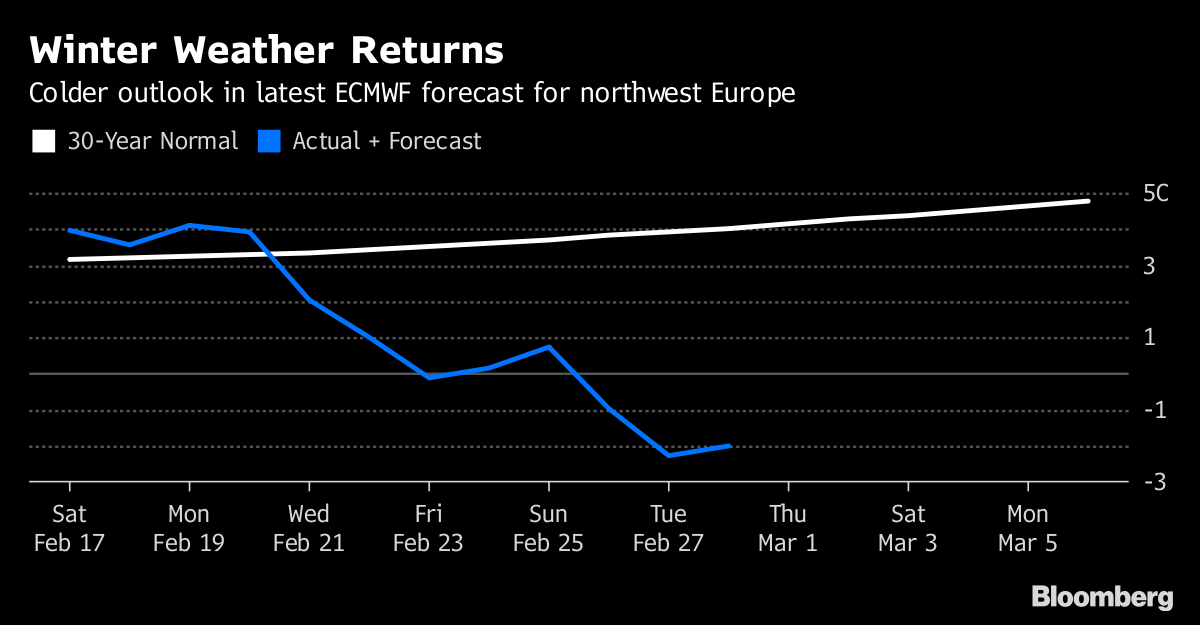 Prices for electricity, natural gas, coal and carbon rose across the region as colder weather is set to increase demand for heating. The chillier outlook is because of a weather event called sudden stratospheric warming, where the polar vortex of westerly wind is slowed down or reversed, pushing cold air flows from Russia west across Europe.
When the same weather event happened in 2009 there was not enough gas to cover soaring demand in both east and west Europe at the same time, said Arne Bergvik, chief analyst at power portfolio manager Scandem AB in Orebro, Sweden. Russian exporter Gazprom PJSC ended up cutting exports and accused Ukraine of taking more gas than it paid for.
"When all of Europe sees an increase of consumption at the same time, reserves, such as gas storage, is put to the test," Bergvik said. "Weather in the coming week will test energy markets and support higher coal, power and gas prices."
While the amount of natural gas in storage across the European Union is less than usual for the time of year, at 38 percent full it is more than 5 percentage points above the level at the same time last year, Gas Industry Europe data show.
Frost Returns
Natural gas for March delivery in the U.K . rose as much as 5.9 percent on the ICE Futures Europe exchange to the highest level in more than a month. Power for next month in Germany gained as much as 4.9 percent, the biggest jump since Oct. 3, while the French equivalent advanced as much as 8.7 percent and the Nordic front quarter contract climbed to a record.
Average temperatures in northwest Europe are seen dropping to minus 2.3 degrees Celsius (28 Fahrenheit) on Feb. 27 compared with a 30-year average of 3.9 Celsius, according to data compiled by Bloomberg using the ECMWF model. 
"There are signs that this cold spell is likely to last well into next week with possibly even colder air from Russia moving across the U.K.," the Met Office said Monday on its website. "Although there is a very low risk of snow this week because of the dry nature of the air, this could change the other side of the weekend."